Is It Wrong to Try to Pick Up Girls in a Dungeon Season 5: Will It Happen? The release date, original source, and other details about DanMachi Season 5 have all been compiled below.
The series of light novels titled "Is It Wrong to Try to Pick Up Girls in a Dungeon" is written by Fujino Omori and illustrated by Suzuhito Yasuda. The series follows Bell Cranel's journey to becoming a powerful adventurer in a role-playing game-like environment. Several of the female figures he meets along the road fall in love with him, both divine and human.
The relationship between Bell and Ryuu comes to a satisfying end in Danmachi Season 4 Part 2, which has an 8.18 rating on MyAnimeList and is currently the best part of the series. Now, fans can't wait to see what happens next.
What is DanMachi All About?
Is It Wrong to Try to Pick Up Girls in a Dungeon?, is a Japanese light novel series written by Fujino mori and illustrated by Suzuhito Yasuda, with the English translation Familia Myth. Since its inception in January 2013, SB Creative has released eighteen volumes under the GA Bunko label.
It has been adapted into manga twice, and an anime TV series based on it was shown by J.C.Staff from April to June of 2015. On December 7, 2016, an OVA premiered. In February 2018, it was revealed that there would be both a second season and a film adaptation of the anime.
DanMachi Season 5 Release Date
J.C. Staff and Sentai Filmworks have not yet announced when Season 5 of Danmachi will premiere. Dungeon ni Deai wo Motomeru no wa Machigatteiru no Darou ka season 5 might seem like a pipe dream, but the show's success and the abundance of its manga source material make it anything but.
Frank Ren's Post,
Season 5 will be a very long wait… 🥲
Two years? Or maybe three years? I will wait…#danmachi #ryuulion pic.twitter.com/cZpRamFE91

— Frank Ren (@FrankRen22) March 16, 2023
Production for season 5 of Danmachi should have no trouble getting underway in light of the show's outstanding ratings and widespread appeal. Sacrificial Princess and the King of Beasts, Reign of the Seven Spellblades, Season 2 of The Duke of Death and His Maid, and Mah Tsukai ni Narenakatta Onna no Ko no Hanashi are all now in the process of being adapted by J.C. Staff for publication this year.
Part 2 of Season 4 of Danmachi is based on the most recently published light novel in Japan, volume 15. The light novel series has thus far had 18 complete volumes issued in Japan, with 17 of those volumes translated into English. In other words, if you can't wait for the premiere of Danmachi Season 5, you can get right into the light novel series at volume 16.
DanMachi All Seasons Rating
Despite the fact that the most recent episode may have gone unnoticed by many Western fans because it was only available on HiDive and not Crunchyroll, the second half of season four is still the most highly scored segment of the anime adaptation on MyAnimeList.
| | |
| --- | --- |
| DanMachi Season 5 | Rating |
| Season 1 | 7.55/10 |
| Season 2 | 7.23/10 |
| Season 3 | 7.46/10 |
| Season 4 Part 1 | 7.69/10 |
| Season 4 Part 2 | 8.18/10 |
Dungeon Season 5 Plotline
Bell learns soon that the dangers he faces with ladies are equal to those he faces in the dungeon. After the elegia festival, which celebrates fertility, Syr asks Bell out on a date to the harvest Goddess festival.
For Bell. If you're free for a date during this goddess festival, please let me know.
Horn of the Freya Family, commonly known as the goddess' attendant, mailed the invitation. Not long after, a dashing older man named Hedin abducts Bell.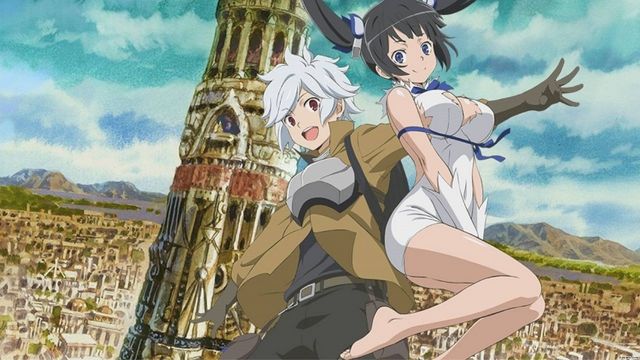 You have to take this Bell x Syr date seriously because the Freya Family is offering something that can't be refused. Even worse, Hedin threatens to destroy the Hestia Familia if Bell doesn't comply. Within a week, Hedin plans to have Bell in fighting shape by making him into a dashing ladykiller.
Part of Bell's "training" entails taking him to the dungeon and telling him to rescue girls while pretending to be charming. Cassandra was so taken aback by a particular occurrence that she went completely red and fainted.
Everyone is sneaking around on their dates at the three-day Goddess Festival. Hestia. Ryuu. Ais, the Sword Princess. This is the Freya family. Our servers are the Hostess of Fertility. Everyone.
We also Cover the Topics:- 
Bell wasn't his typical shy, easily embarrassed self with women, proving that Hedin's teaching had an effect. Instead, Bell kept her cool around Syr and heroically prevented a pickpocket from making off with her purse. Everyone saw a drastic change in his demeanor, even Syr wasn't immune to the commotion.
Where to Watch DanMachi Season 5?
This anime's third season was available for viewing on Crunchyroll and VRV. HIDIVE was the main provider of the fourth season. Need to see Should You Not Approach Women in a Dungeon? Is Season 5 planned for future online viewing? As Sentai Filmworks is the streaming licensor, it looks like the DanMachi anime series will remain a HIDIVE exclusive.
For this reason, Sony's purchase of Crunchyroll and Funimation revoked the streaming licensing rights previously held by Hulu, Netflix, and others. HIDIVE was promised the fourth season of DanMachi by Sentai Filmworks, therefore in late March 2022, Crunchyroll took down Season 1.
Also Read: Who Plays Nikolai in Shadow and Bone Season 2? 
Final Words
Thanks for reading our post! We hope it was interesting and helpful. Please let us know what you thought of the article by leaving a comment or sharing it with your Friends. Check out our other articles on SeasonRelease.com for more useful information. For more updates stay with us.
Have a Good Day!