The fourth season of "Love is Blind" is expected to be the most exciting one yet because it is moving to a beautiful resort in Mexico, where the sunny weather and high-end decor will serve as the ideal background for this romantic adventure.
A brand-new group of eligible bachelors and bachelorettes are about to embark on this radical dating experiment, and that means high stakes for viewers. Participants will have to face their own vulnerabilities and fears as they experience the ups and downs of developing emotional bonds with one another and learning to live in a communal setting.
Seeing these idealistic romantics take the ultimate leap of faith in their hunt for love in a brand-new setting with brand-new faces in "Love is Blind: Mexico Resort" promises to be an exhilarating ride full of unexpected twists and turns.
What is 'Love Is Blind' All About?
Love Is Blind is a reality dating show made by Chris Coelen and Kinetic Content. It premiered on Netflix on February 13, 2020, as part of a three-week event. In this reality show, eligible bachelors and bachelorettes get engaged without ever having met in person.
On March 24, 2022, Netflix announced that they would be renewing Love Is Blind for its fourth and five seasons. On March 24, 2023, the debut episode of Love is Blind Season 4 aired.
Where Was 'love is Blind' Season 4 Filmed?
Love Is Blind's season four vacation episode was shot in Quintana Roo, Mexico. According to Bustle.com, the ensemble was given free rooms at the five-star TRS Yucatan Hotel in Playa del Carmen.
In subsequent episodes, viewers will see the newlyweds settle back into their Seattle neighborhoods after celebrating their engagement.
Love Is Blind has previously shot seasons in Atlanta, Chicago, and Dallas, so this is a first for the series. Past vacationing seasons have concluded with all the couples relocating to apartments in the same building. The engaged couples this time, however, settle into townhouses.
How Much Do Mexico Resort Rooms in Season 4 of Love is Blind Cost Per Night?
Surely the show's production company footed the bill for a romantic week spent in the pods getting to know each other and meeting potential matches. TRS Yucatan Hotel's rooms are pretty pricy for those of us who don't want to go on reality TV and get engaged to someone we've just met, without previously meeting them.
Suites are available for $700.00 – $800.00 USD per night. The accommodations are expensive, but they come with many convenient facilities. Room amenities include a king-sized bed, a butler, 24-hour room service, a large flat-screen TV, a choice of pillows, a furnished patio, a living area, a hydromassage shower, private check-in, and views of the Riviera Maya's mangrove jungle.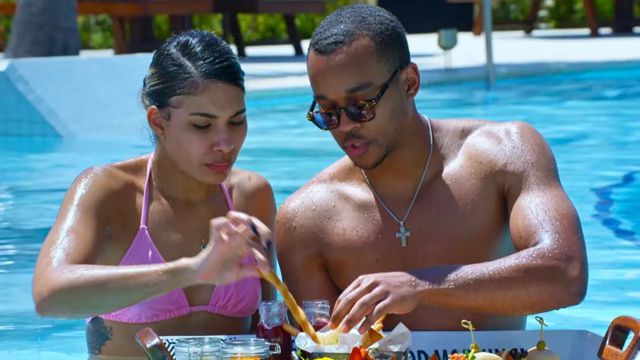 Season 4 of "Love Is Blind" In addition to its 26 dining and drinking establishments, this Mexican resort features six swimming pools where guests can relax. Guests must be 18 or older to stay at the resort's main complex.
Love is Blind Couples Explored Outside Resort in Beautiful Tulum Mexico
The cast of Love Is Blind season 4 ventured beyond the confines of the luxurious resort they called home. Time constraints necessitated cutting out a lot of the couples' time in Mexico.
Although their date at Puro Corazon, a prominent Mexican restaurant in one of Tulum's main tourist districts, didn't cut, it did feature Marshall Glaze and Jackelina Bonds. Cenotes are beautiful freshwater holes excellent for swimming that can be found all across Tulum. Paul Peden, an environmental scientist, escorted his fiancee Micah to one in episode five.
Ancient Mayan ruins, diving, and other jungle exploration possibilities can all be found in Tulum. There may have been more exploration of the area by the Love Is Blind couples in Season 4, but it wasn't included in the final product. The luxury of their hotel probably wouldn't inspire them to venture out much, either.
Conclusion
The eligible bachelors and bachelorettes on the reality dating show "Love is Blind" often end up getting engaged without ever meeting each other in person. A new cast of characters was put through their emotional paces in a communal environment at the TRS Yucatan Hotel in Playa del Carmen, Mexico for the show's fourth season.
The luxurious resort and warm weather in Mexico set the stage for a memorable romantic journey. Couples will leave the comfort of the opulent resort to experience the natural beauty of Tulum in what promises to be an exciting adventure.
Thanks for reading our post! We hope it was interesting and helpful. Please let us know your thoughts on the article by leaving a comment or sharing it with your Friends. Check out our other articles on SeasonRelease.com for more useful information. For more updates stay with us.
Have a Good Day!