Landon Barker has split the internet after getting a tattoo of his girlfriend Charli D'Amelio's eye on his arm. This has led fans to question whether or not they are dating.
In the summer of 2022, after TikTok star Charli D'Amelio broke up with ex-boyfriend Chase Hudson, Landon Barker, son of Blink-182 drummer Travis Barker, started dating Charli.
It's been almost a year since the paparazzi caught these two on a date night and told the world about their relationship. Since then, despite breakup rumors and viral cheating charges, the couple has made no secret of their love for one another.
But some fans are raising an eyebrow at this couple, especially after Landon's latest show of love for his internet-famous girlfriend.
Did Landon Barker Get Charli D'amelio's Eye Tattooed on His Arm?
Landon Barker posted a few pictures to His Instagram stories on June 1 that showed him getting another tattoo. At first, he just hinted that he was getting some new tattoos. However, after he showed off his new tattoos, some fans noted them as a little weird. Landon actually got an image of Charli's eye tattooed on his right arm. Talk about hard work!
Charli also shared a picture of her boyfriend's tattoo to Her Insta stories. So far, it's not clear how she feels about her boyfriend's new tattoo, but she thought it was important enough to post about it. Some fans feel awkward about this new step in their relationship. Others have said that the tattoo is too much and that Landon would regret getting it if they break up.
One fan wrote on Instagram, "It's going to end soon because of the tattoo curse." "When someone in a relationship with an influential person gets a tattoo of the other person or matching tattoos, the relationship always ends after that."
"This is one of the worst things you can do. Another person said, "Tattoos are cursed," referring to the "tattoo relationship curse."' "They are only 19 years old. At that age, relationships don't last forever, but it's a sweet thing to do."
Charli D'Amelio has been dating Landon Barker since June 2022. Both of them are popular on TikTok and have a lot of fans. They have also been featured on the cover of Mini V Magazine. If you want to learn more about other famous couples, you can read about Is Sara Waisglass Dating Someone in 2023, Taehyung & Jennie's Relationship, and Jalen Rose's Relationship with Angela Rye.
Fans have also taken a second look at their relationship because Landon made a TikTok video in May that was all about his girlfriend's foot, which freaked out the whole internet.
Does Landon Barker Freak Fans Out With a Weird Video About Charli D'amelio's Feet?
TikTok is made for people who want to share their thoughts and feelings in an artistic way. But sometimes, this freedom of expression comes dangerously close to crossing the line into strangeness. This is the case for Landon Barker, who recently shared a video with his girlfriend, TikTok star Charli D'Amelio. Landon is the oldest son of singer Travis Barker.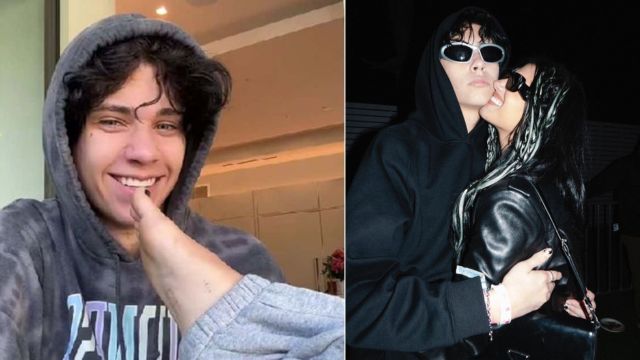 In the video, the 19-year-old sang along to Machine Gun Kelly's "Bad Things" while Charli's well-groomed toes were right in front of his face. Landon, who was wearing a gray tie-dyed hoodie, seemed to be humming to Charli's well-kept feet before he burst into a smile and looked at his girlfriend, whose face is off-camera.
Fans Are Going Crazy,
In answer to the video, people are talking about how strange it is in the comments. Several fans were quick to compare Landon to his dad, Travis Barker, who is known for praising his wife Kourtney Kardashian's feet.
Someone wrote, "Mini Travis and Kourtney [Kardashian]." "Like father, like son," said someone else. Get it." A third person said, "These TikToks are getting more interesting every day."
Some people looked past the feet and said how cute the two of them are together. One person wrote: "Bro, they were made for each other." "No, but the way he smiles at her and looks at her. Also, he can be himself around her. "STOP, I NEED THIS," someone else wrote.
A third person said, "I don't care about the feet, but the way he looks at her, boohoo, I really hope the best for them."
Source: Season Release