Fans of "The Witcher" can't wait to find out what happens in the upcoming third season. Many people have become engrossed in the show because of its exciting plot and lovable characters. Henry Cavill, who plays fan favorite Geralt of Rivia, deserves a lot of credit.
Fans have been wondering if Henry Cavill will appear in Season 3 of "The Witcher" due to persistent reports about his possible return. Come along as we investigate this pressing subject and learn more about the upcoming season's cast.
The new cast members and returning veterans make this season as exciting as the previous ones. The third season of "The Witcher" has an incredible cast, so strap in and prepare to be immersed in a new world.
What is 'The Witcher' All About?
The Witcher is a Netflix original fantasy drama series developed by Lauren Schmidt Hissrich. It was inspired by Andrzej Sapkowski's novel series of the same name. The Witcher is a mythology about Geralt of Rivia, Yennefer of Vengerberg, and Princess Ciri that takes place on a made-up medieval-themed continent.
The film stars Henry Cavill, Anya Chalotra, and Freya Allan.
The Witcher Season 3 Cast
Henry Cavill, who plays protagonist Geralt of Rivia in The Witcher, will return for a third and final season, along with Freya Allan, who plays Ciri, Anya Chalotra, who plays Yennefer, and Joey Batey, who plays Jaskier.
It's likely that the other witchers won't show up until the party leaves Kaer Morhen, but we can count on seeing important politicians and sorcerers like Triss (Anna Shaffer), Djikstra (Graham McTavish), and Vilgefortz (Mahesh Jadu), whose mysterious past will be exposed in Season 3.
The elf plotline will almost certainly continue, and we can probably expect to see familiar faces like Mimi Ndiweni's Fringilla and Eamon Farren's Cahir the Black Knight.
In addition, Bart Edwards will be back to play Emhyr/Duny/White Flame once again. Rience, Vilgefortz's apprentice and the fire mage Yennefer and Geralt known by a more endearing nickname due to his love of fire returns in The Witcher season 3's teaser trailer.
As can be seen in the trailer, Sam Woolf will be playing Rience instead of Chris Fulton, who originally performed the role in season 2 of The Witcher. The trailer also featured the characters played by Cassie Clare and Tom Canton, Philippa Eilhart and Filavandrel, and Mecia Simson and Francesca.
The Witcher's supporting cast, including MyAnna Buring's Tissaia de Vries, has also been set to return.
| Actor | Character |
| --- | --- |
| Lars Mikkelsen | Stregobor |
| Ed Birch | King Vizimir II |
| Wilson Mbomio | Dara |
| Therica Wilson-Read | Sabrina Glevissig |
| Terence Maynard | Artorius Vigo |
| Jeremy Crawford | Yarpen Zigrin |
| Liz Carr | Fenn |
| Royce Pierreson | Istredd |
| Kaine Zajaz | Gage |
| Simon Callow | Ellis Codringher |
Is Henry Cavill in Season 3 of The Witcher?
Through an Instagram post in October 2022, actor Henry Cavill confirmed that The Witcher season 3 would be his last. The Hunger Games' new Geralt of Rivia, Liam Hemsworth, has also been supported by Cavill. What Henry Cavill had to say on Instagram was as follows: The Captain gave Below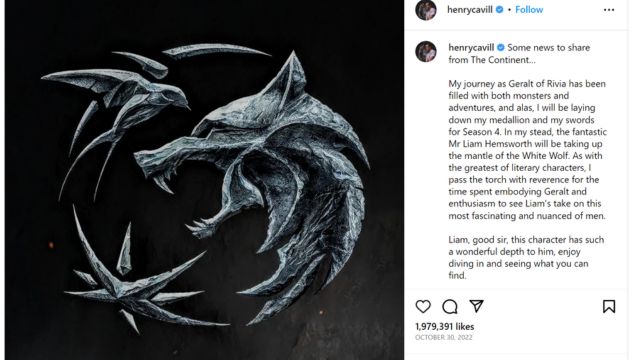 My journey as Geralt of Rivia has been filled with both monsters and adventures, and alas, I will be laying down my medallion and my swords for Season 4. In my stead, the fantastic Mr Liam Hemsworth will be taking up the mantle of the White Wolf. As with the greatest of literary characters, I pass the torch with reverence for the time spent embodying Geralt and enthusiasm to see Liam's take on this most fascinating and nuanced of men.

Liam, good sir, this character has such a wonderful depth to him, enjoy diving in and seeing what you can find.
The general public's reaction was one of disapproval, with stories circulating that Cavill had quit because of the show's handling of Sapkowski's works or that Netflix had fired him. Since then, the showrunners have shot down these speculations.
We also Cover the article on The Witcher Season 2 Recap and Ending Explained.
The Witcher creator Lauren Hissrich has even pledged to give Henry Cavill a fitting and "heroic sendoff" in his final performance as Geralt in Season 3. Cavill's departure from The Witcher was the most upsetting news for longtime viewers in the third season. It's not all terrible news, either.
Source: Season Release